Samson's Classroom
Home Plan for 1 user - $30/year
Family Plan for 4 users - $50/year
Three great programs for one great price:

Sight Words with Samson - For beginning readers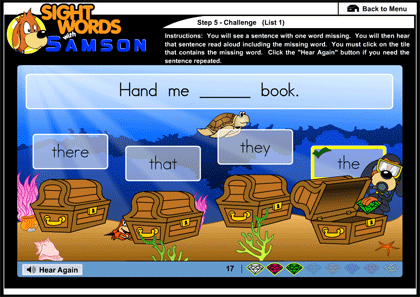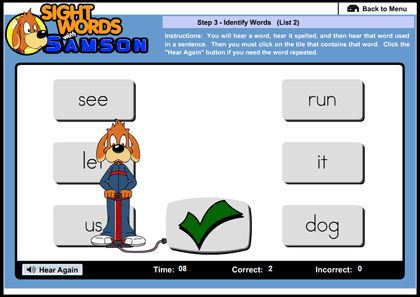 From their site -
Sight Words with Samson is an absolute must for all beginning readers. This software product is the complete package for teachers and administrators looking to give their students the necessary foundation they need to become successful readers. This engaging product is proven to help early readers master the 224 most commonly used words in the English language.
Spelling with Samson - Up to 5th grade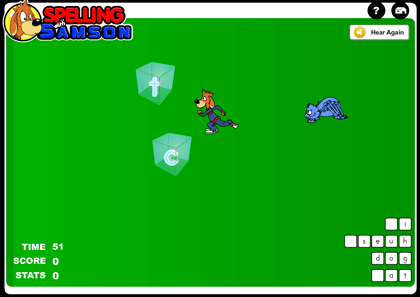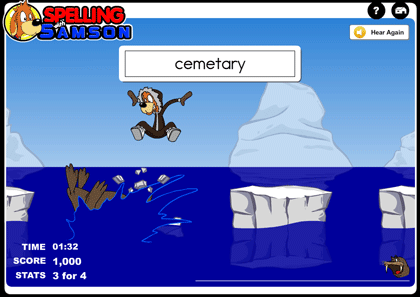 From their site -
With more than 5,000 words and counting, Spelling with Samson is the most comprehensive spelling product on the market. This amazing software package captivates students and provides educators with all the tools they need to improve the spelling ability of their students. Join the thousands of teachers from across the country that have already made Spelling with Samson a part of their classroom.
Reading with Samson - For reading comprehension
From their site -
Reading with Samson combines everything you have come to expect from the Samson product line with a new patented user feedback system. The end result is a cutting edge software product that helps students analyze reading material and learn how to draw conclusions and answer questions based on that material.
Samson's Classroom also includes teacher resources, including some great printable worksheets.
Try out some

of the

Samson's Classroom DEMOS .
Or check out this 3 minute VIDEO.
Our Thoughts:
An online learning game with something for all 3 of my children for less than $5 a month. Sounds like a winner to me. So what is it all about and how did it work for

us?
My youngest turns 4 next month, so I am super excited to start using

S

ight


W

ords with Samson with her in the next few months. It looks like a super fun way to introduce

her to reading.
My two older daughters spent a

good

deal of time working their way through Spelling wi

th

Samson and Reading with Samson

.
In the
spelling

section, your student can either pick from a spelling list of your creation or from the provided KNOWLEDGE WAND LIST. We chose to work from the provided list. It has tons of choices. You can choose a list based on grade level up to the 5th grade. Or you can choose by a common theme, such as "Days of the Week" or "Farm Animals". Each list is comp

osed of 4 sections.
1. Study Zone - to study and master the words in your list. Each word is click-able. You can hear the word, hear the word in

a sentence, and hear the word spelled.
2. Missing Letters - help Samson karate chop his way through the missing letters for each word. It is very cute. If you

guess

correctly, Samson chops through the blocks of wood. If you

guess

in

correctly

, Samson attempts to chop the wood, fails, and then rubs

his hand.
3.

Spelling Scramble - watch out for the tarantu

la, while gathering the letters to turn them into words.
(I will point out that my 5th grader found the Spelling Scramble game to be frustrating. It is difficult to navigate Samson around the screen

and t

rying to avoid a spider tha

t

you can't see until the last minute was not her idea of fun. But after he

catches you, the pressure is off and you can focus on just rounding up the letters. My hint to you would be, just let him catch you and then concentrate on getting the letters.)
4. Crunch Time - try to spell the words correctly, quickly enough to keep from falling off the ice chunks, to avoid

the walrus.
I found the words to be challenging enough for my 5th grader. Some of the more complicated, longer words were even helpful for my 8th grader. It was a fun way to learn and it proved to be effective. After just a little practice, they would be scoring 100% on their word lists. And it was great for the pa

rent

as well. With just a quick glance, I could see which word lists they had practiced and which ones they had perfect scores on. Plus, as I mentioned earlier, you have the option of making your own word li

sts.
Crun

ch Time was their favorite game in the spelling section.
In the
reading comprehension section,
your student will read a selected passage and then answer questions related to it. There are 4 levels of

difficulty

to choose from. If you get an answer wrong, it will highlight the relevant passage and give you another chance. I again appreciate how easy it is for me to see my child's progress. At a glance, I can see which passages they read, and also how many questions were right, wrong, needed a

hint (highlighting selected passage)

, or were unanswered.
Reading comprehension is very important to me. It doesn't matter how well you read, if you don't take anything away from it. I found this to be a quick and easy way to improve my daughters' skills, with

just a few minutes a few times a week.
My 5th grader's favorite section was the spelling. My 8th grader's favorite section was the reading. Of course, the articles weren't very challenging for her. But it remind

ed

her of the importance of paying

attention

to details...and not just reading to read.
I am very pleased with this product, as a supplement

to our homeschool curriculum.

For less than $5/month, it is a quick and easy and fun way for a student to get a regular review of her spelling and reading comp. skills. It is also a great way for a parent to get a nice overview of how their child is doing in these areas. All the printables and resources for the homeschool

parent

are a definite bonu

s.

Disclaimer: I received
this product free of charge, as part of the Schoolhouse Review Crew. The above is just my opinion. Please remember that opinions may, and do, vary.