Kinderbach: Simply Discover Piano...an App for IPad
$26.99 for full ad-free Classroom Version
Special! Special! Special!
This coupon code gives 30% off any order - homeschool, classroom, online or DVDs.
Coupon Code: TOS_crew2012
Expires: 12/31/2012
Also the KinderBach App is on sale This Friday, Oct. 19th, 2012 ONLY. The app will be discounted over 50%, down to $12.99! No code needed just the link to the Classroom KinderBach app in the App store:
An online computer version is also available, if you prefer. Here are some
samples.
by the company
Kinderbach

Geared towards ages 3-7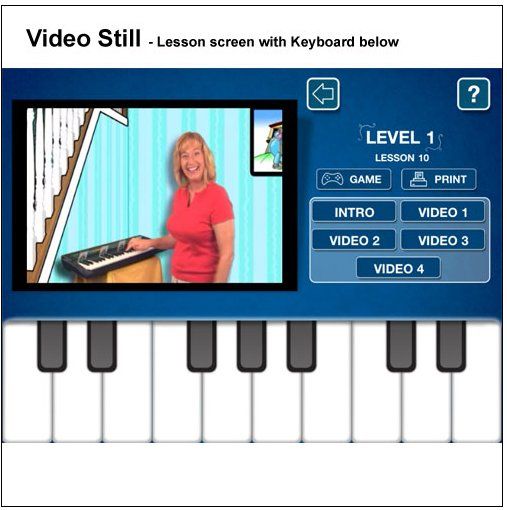 Brief description from the website:
KinderBach's App for iPad or iPhone brings the teachings of Karri Gregor to your device. The KB App features Levels 1, 2 & 3 and offers a year's worth of entertaining music education for 3 to 7 year old children through video, interactive coloring pages and games. Miss Karri introduces preschoolers to the keyboard characters with stories and fun tunes. Kids will enjoy playing simple songs, identifying music direction and pitch, learning rhythm notes and their beat value. Levels 1 to 3 cover proper hand and finger position, as well as note reading by pattern for voice, and keyboard.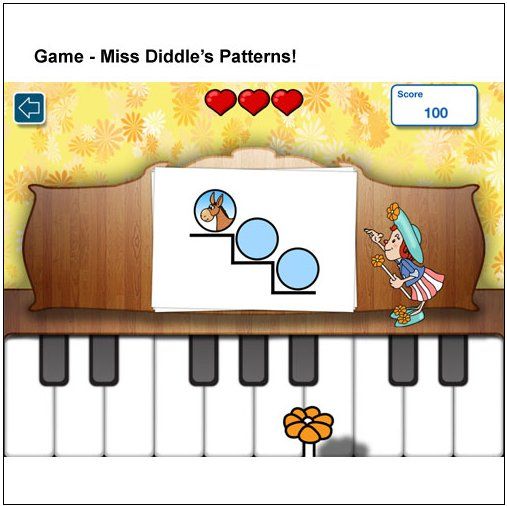 Instructor: Karri Gregor
Karri began teaching her children piano when they were very young. Gradually she worked her way up to teaching 150 students. After moving, she decided to begin teaching by videos so that students would be able to learn, even if she were to move again. You can read the story in more detail on
her website.
The Course Syllabus can be seen here.
Kinderbach provides many on-screen activity sheets. They are a great addition to the program, both to entertain and to reinforce. They were a big hit with my daughter.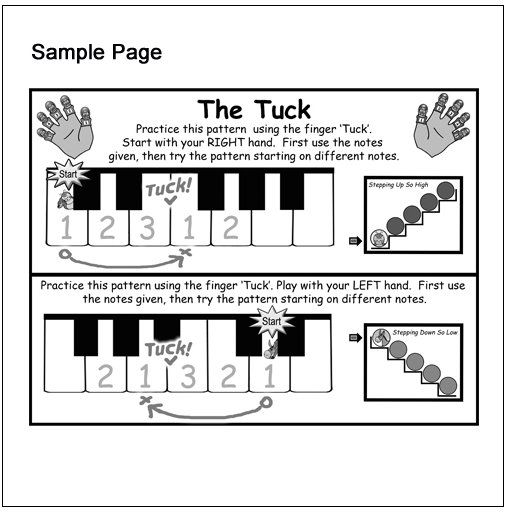 Before you know it, your little one will be playing songs.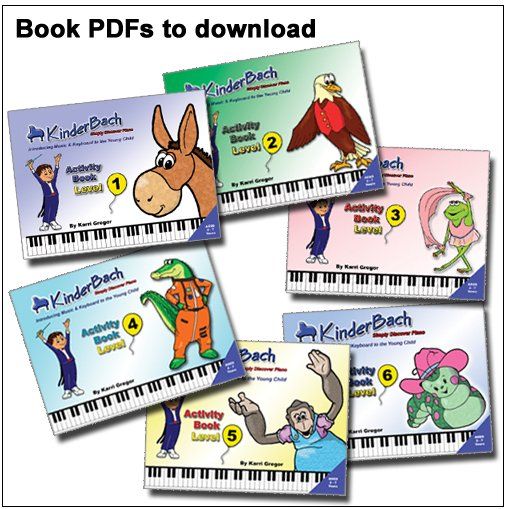 This is the 3rd time that I have reviewed Kinderbach. The 1st and 2nd times, I reviewed the online program. You may wish to read those reviews as well.
I am a huge fan of Kinderbach. It is such a great way to introduce the little ones to music, piano, and sheet reading. Karri makes it fun, with the cute little characters like Dodi and the neat little correlations like Dodi's house being between the two black keys.
It teaches how to keep rhythm and time, with things such as clapping to a steady walking beat. And Karri reminds us that most anything can be used as a musical instrument, to keep the beat value.
Karri's videos are short and sweet and she is good at keeping a young child's attention. Her voice is pleasant to listen to, which is very important. Each sesction is broken into 5 sections (an intro and 4 short sessions). It also includes a game and printable worksheets, if you have the ability to print.
If your child is just in a playing kind of mood, he can go straight to the game section and choose an activity from there. It includes a cute little game for teaching children the correct finger numbering.
Of course one neat feauture of the I-Pad app is that it has a built-in piano. This simplifies matters, so that you can use the app most anywhere without having to be near a computer. My 3 year old daughter thought this was super cool.
I think the Kinderbach program is a wonderful program. It is geared directly to the preschool set, with the lively videos and songs. My 3 year old enjoyed the lessons and the games. She enjoyed keeping the beat value, preferring to use the built-in keyboard as her instrument of choice. She quickly caught on to the fingering game, even though this was a totally new concept to her. She has already begun learning some very invaluable information, and having fun at the same time.
I think the Kinderbach program is great. Whether you decide to go with the online version or with the Ipad App, I think your prechsooler will not only enjoy it, but benefit and learn from it.
Disclaimer: I received
this product free of charge, as part of the Schoolhouse Review Crew. The above is just my opinion. Please remember that opinions may, and do, vary.