Vocal Coach Singer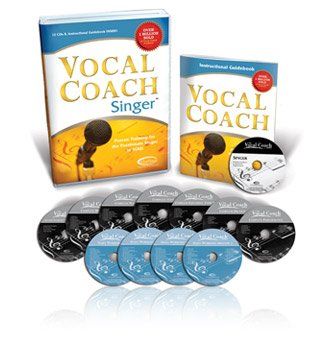 CDs - $119.99
MP3s - $99.99
Recommended for youth and adults
From their site -
"Learn to Sing Your Best with the Ultimate Personal at Home Voice Lessons!
Vocal Coach Singer
includes 7 professionally produced training CDs, 4 workout CDs, and a full-size instructional guidebook so you can quickly gain more power, clarity, and confidence in your singing performance. Plus you will receive 1 CD with printable lead sheets for every vocal exercise and your own singer's journal.
Vocal Coach Singer
is the most complete instructional singing system available with the equivalent of over $2,000 worth of personal coaching time. Whether you are a beginner or a professional, Vocal Coach Singer teaches and builds upon the fundamentals essential to an accomplished singing voice. From posture to performance our tested and proven techniques will help you deliver your songs with consistency and confidence!
With our easy-to-use step-by-step singing lessons, you'll hear AND feel the difference in a matter of days! This is the only course you'll ever need to not only learn to sing your best, but also maintain your singing voice for years to come."
_
Vocal Coach Singer Includes:
7 Training CDs:
Getting Started
Complete Breathing
Complete Warm-Up
Complete Tone
Complete Expanding Your Range
Complete Diction
Complete Performance
4 Workout CDs:
Daily Workout High Voice 1 & 2
Daily Workout Medium/Low Voice 1 & 2
Plus these great educational tools:
Guidebook – Full-size Instructional Guidebook to Ensure Success
Printable Lead Sheets – each exercise in our course, plus track lists
Personal Singer's Journal (Getting Started Journal & Workout Journal) to Track Your Progress
Vocal Coach Song Evaluation – Evaluation form to enable you to make more intelligent song selections
______________________________________________________________
They also offer a "
Teaching Kids to Sing
" set for ages 5 to 13.
Teaching Kids to Sing 2-DVD/1-CD Set is the perfect way to teach your children and their leaders about the child's voice. All the foundations from Posture, Breathing, Tone, Rhythm, Diction and much, much more is explored and demonstrated. The cast includes Chris & Carole Beatty and a group of children ages 5 to 13. The CD contains all the music used on the two DVD's in two versions: With vocals and track only. This allows your young singers to learn, then perform the songs.
_______________________________________________________________
Presented by
VocalCoach.com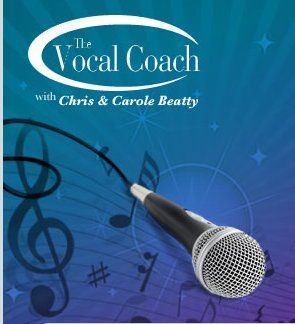 The coaches:
Chris and Carole Beatty
"Chris & Carole Beatty, creators and founder of Vocal Coach, have taught and coached thousands of singers, young and old for over 40 years.
Vocal Coach is built on their passion for training the singers of today and tomorrow through their time-tested, million-selling products as well as in the Vocal Coach Voice Studio in Brentwood TN."
______________________________________________________________
FREE RESOURCES
Our Thoughts:
Two of my daughters regularly perform in musical theater productions. As such, singing is a big part of their lives, especially when they are cast for solos. None of us have had any formal training in singing. So, this past year, I have been debating signing my teen up for voice training. I figure that this is something she is very serious about and something she wishes to continue with. So what was holding me back? The expense of a private coach and also the time commitment of having another "must be there" added to my schedule.
So when the Vocal Coach came up for review, I decided to give this a try before signing up for voice lessons. Why? This is something that we can do in our home, on our own schedule. And the expense, although somewhat pricey up front, is a one-time expense. An expense that pays for itself in the first month, based on the fees I have seen advertised for weekly lessons with a voice coach. So it was definitely worth a try.
I received the program as an MP3 download. It downloaded easily and ran well. Given the choice, I would have loved to see this program on DVD or as a video download. I am a very visual person, so it would have helped me immensely to be able to view the instructor and watch exactly how he was standing during a posture lesson or to watch exactly what shape his mouth was in when he made a certain sound, etc. And of course, it would have just made it easier for me to concentrate and focus in general. Maybe this is something they will consider in the future, for us visual learners.
Since we have had no formal voice lessons, most everything in the lessons was new to us. I appreciate how the Beattys start with the basics. You can't expect to sing well unless you have the correct posture. The posture lessons were fun, I thought. It made me feel a little silly, but no one was watching but my daughter. And I have found myself thinking about it and correcting my posture throughout the day.
Next up is voice warm-ups. You know...all those silly sounds that singers make when warming up before a performance. Wow, if I thought I felt silly doing the posture exercises, I felt SUPER silly doing the voice warm-ups. But again, it was just me and my daughter. So I had great fun with it and we were both laughing and having a good time with it. Of course, we found ourselves breaking out in a grand rendition of "Do Re Me".
Chris breaks it all down into bite-size chunks. Just a little at a time. And the benefit of this type of course is that you can rewind and practice as many times as you like. No extra charge for overtime, for causing the instructor to go over his time limit.
If you decide your child would benefit from some private training and feedback, Chris does offer
online training.
I found it to be a little awkward at first. It was something new and different. And I wasn't used to the format. But they offer everything you need to get a good overview of the program and to make a plan for getting started. And it didn't take long to catch on.
My daughter says she would still prefer an "in-person" instructor. But for now, I plan to have my daughter continue with the program. Why? I am convinced that she can learn a lot from Chris, in the comfort of our own home and on our own time schedule. And if the time comes, when she takes lessons from an instructor in a studio...well, just think of all the money I will save, when they realize just how much my daughter has already learned from using
VOCAL COACH SINGER
. Because as I mentioned, this course pays for itself in the first month. Yet it could potentially save me months and months and months of one-on-one coaching .
I think the success of this program will greatly depend on your child. How serious are they about learning to sing well? Do they have the drive and determination to continue with the lessons and take the practices seriously, without an instructor prompting them. Will you remember to have them practice, without an actual weekly appointment scheduled on your calendar? Is your student a visual learner? Does he feel comfortable using computer files? These are all things to ponder in your purchasing decision.
I believe a serious student will greatly improve their singing ability, to not only sing well, but to sing correctly.
Disclaimer: I received
this product free of charge, as part of the Schoolhouse Review Crew. The above is just my opinion. Please remember that opinions may, and do, vary.