Preschool Ebooks by
Sherri MacLean and Paula Reetz
Ages 3-6
Science Ebooks by
Sherri MacLean
Grades K - 8th grade
Other products available from Activity

Bags:
Reading Games
Travel Activities
Math Games
Coordinator Handbook (FREE)
Daily Activity Journal
$15 per Ebook.
Some bundle pricing is available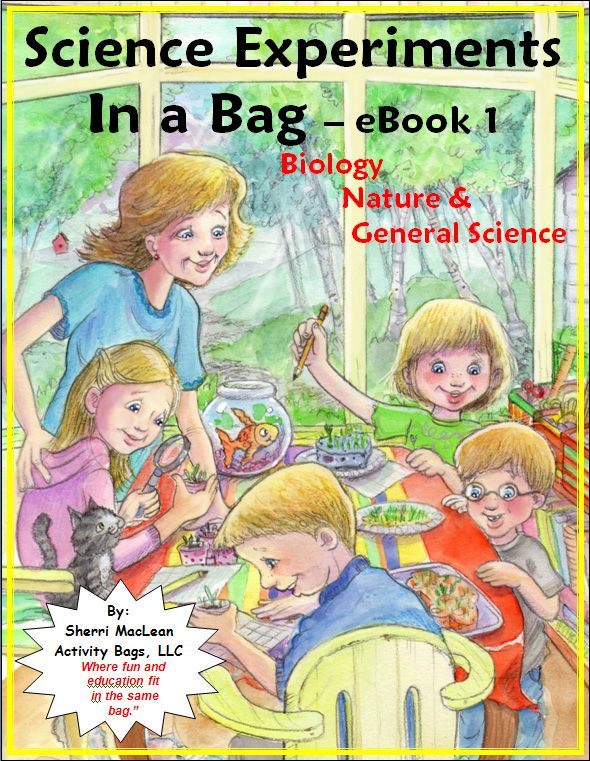 This book provides examples of 25 simple experiments that you can do with your children.
Sample
from Science #1
This Ebook has 25 more experiments.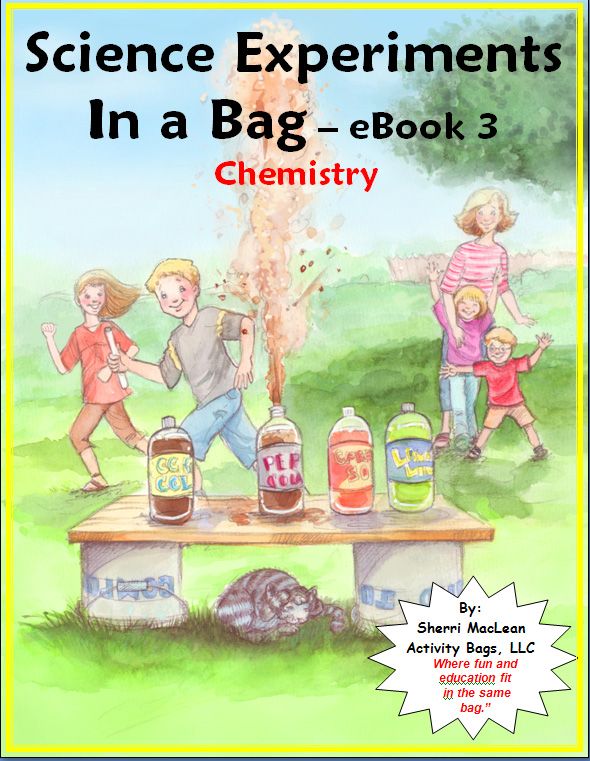 This Ebook also has 25 experiments.
This Ebook features 34 activities that can be independently done and put away by preschoolers.
Sample
from Preschool #1.
This Ebook features 33 activities that can be independently done and put away by preschoolers.
Sample
from Preschool #2.
Our Thoughts:
I had heard about the Preschool Activity Bags and was intrigued by the idea. I think most homeschool moms with preschoolers have asked the same question over the

y

ears. What can I do for my little preschoolers doing our family's homeschool hours? What activities

, safe and educational, can they work on
independently for short periods of time? What items can we keep in a storage tub to pull out during times when my older children need my attention for tough subjects?
The Preschool Activity Bag sounded like it just might have the answer to all of these questions. But it gets even better! I didn't know they offered even more solutions, like the science experiments activity bags. Science is a topic that doesn't come easily to me. Not so much that I don't understand it or that I don't enjoy learning about it, but that planning and setting up experiments isn't my strong suit. So, we don't do as many experiments as we could. So, I was pleasantly surprised to see that this company also offers the science experiment ideas.
I am so impressed with the detail that has gone into these Ebooks.
In the preschool
Ebooks,

you will find an "activity skills chart". You can pick specific kits for color, hand/eye coordination, patterning, and more. The Ebook has an "activities at a glance", which lists each activity along with the skills learned, general supplies needed, and masters needed for the kit. It includes tip

s,

frequently asked questions, and plans for

coordinating

a swap with other

families.
Each activity provides a supply list, detailed instructions on how to assemble the kit, and detailed instructions on how to use the activi

ty.
After you complete the kit, store it in a storage bag. Then store all the b

ags

into a carton, stora

ge tub, etc.
This way, all the kits are easily accessible for your little preschooler. It is important to teach your child to clean up one activity before pulling out another, or else you will end up with a jumbled mess of kits all mixed together.
I am so pleased with this concept, the variety of choices, the detailed instructions, and that so many of the supplies are either ones you probably already have on hand or can purchase cheaply. And most importantly, these are the kinds of activities that the little guys and gals LOVE, plus they will learn while they are at it.
Check out this great idea!
There is a spoon for each letter of the alphabet, both upper-case and lower-case. My 13 year old daughter labeled the spoons for me. We thought of several ways to use these, and I'm sure there are more.
Use as intended, and match the upper-case with it's lower-case.
Use to practice alphabetical order.
Or use them to spell words.
In the science experiment Ebook,
you will find the same great quality as in the preschool Ebooks. Frequently asked questions, tips, etc. The experiments give detailed instructions for how to make the bag and also for how to perform the experiment. The experiments also provide observation questions and a space for

notes.
I appreciate that these are simple experiments w

hich

require

easily-available supplies. But simple doesn't mean boring. These are

creative, fun, and educational.
Check out this experiment, called Can Crusher. We boiled a tiny amount of water in the can, then immediately after removing it from the heat, we used tongs to quickly immerse it upside down into a bowl of ice water. The immediate implosion was so exciting that we did the experiment three times in a row. But the Ebook doesn't just tell you how to perform the experiment. It also asks observation questions, then it includes the explanation about why the result happened. What exactly was taking place inside of that can to cause such an impressive imp

losion? The Ebook will tell you all about it.
Final Thoughts:
I am so happy to be chosen for this review. The preschool activity bag Ebooks are even better than I dreamed they would be. So many ideas and so simple. Yes they take time, but they aren't difficult. And once they are made, you will have a treasure trove of activit

ies for your little one.
The science experiment Ebooks are a welcome addition to our home. I love the idea of our family doing more experiments on a regular basis. And these are just the key to getting that done, with little expense and little pre

p, but with GREAT rewards.

Disclaimer: I received
this product free of charge, as part of the Schoolhouse Review Crew. The above is just my opinion. Please remember that opinions may, and do, vary.