publishers of
Raising Maidens of Virtue - A study of
feminine loveliness for mothers and daughters
For mothers and their daughters ages 8 - 15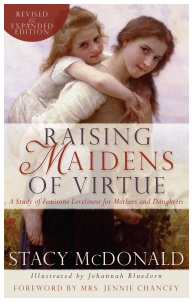 $18.50
by Stacy McDonald - Stacy is a Presbyterian pastor's wife, mother, grandma, conference speaker, and blogger. She encourages women in their marriages, motherhood, homemaking, chastity, and Christian culture.
Illustrated by Johannah Bluedorn - Johannah has been homeschooled all of her life and is self-taught in art. She is an author and an illustrator.
Foreword by Mrs. Jennie Chancey - Jennie is a wife, mother of ten, and the owner of Sense and Sensibility Patterns.
Be sure to take a peek at all the other wonderful books available at
Grace and Truth Books.
About this book (from their website):
"The
Revised and Expanded Edition
. Contains new, updated content and additional chapters.
Now in its 7th printing, this revised and expanded edition of Stacy McDonald's popular Bible study for mothers and daughters reflects a mature and seasoned approach to mentoring young women. With many of the original chapters polished and revised, and several new chapters added, readers will find this resource refreshing and even more useful than before.
Godly women are not born, but raised.
Raising Maidens of Virtue
is a storehouse of tools for mothers to employ to raise up a daughter whose life will honor God. Written in an engaging style, Stacy McDonald conveys the truth through stories, conversations, illustrations, and memory-making projects, to warmly encourage girls to think Biblically about themselves and their world. Offers useful counsels on modesty, feminine beauty, guarding the tongue, idleness, sibling relationships, honoring parents, contentment and more."
Our Thoughts:
Purity and modesty, it isn't about the clothes you wear or how you style your hair. It is about your heart; it is about the reasons behind why you do what you do.
Did you pick your clothes in order to solicit attention? Did you choose your hairstyle in order to look like the latest celebrity? When you go out, are you looking for a quick date, or are you keeping your future husband in mind?
It is a choice. Live for God or live like the world. Dress modestly or dress like Hollywood. Date every guy who asks you out, or live with your future husband always in mind. It is about your heart.
Be a lovely lady. A virtuous woman. A fair maiden. Both inside and out.
This book is in its 7th printing, but somehow this is the first time I've heard of it. The thought of working through this book with my daughters thrilled me. I was so excited to get it and get started. My heart's desire is for my daughters to be maidens of virtue. And I am thrilled to have found this book to help us on that journey.
Stacy McDonald has such a delightful writing style. She uses analogies such as Hannah Hotstuff and Fanny McFrump to depict different attitudes about our attire. And wonderful stories such as "The Fence Dwellers", to show the dangers of spending too much time dwelling on things of this world and becoming desensitized to right vs. wrong. The lessons are very serious and our daughters would be wise to learn them; but Stacy teaches the lessons in ways that are interesting and sometimes, humorous.
The book includes beautiful illustrations, very nostalgic. And heart-touching prayers. Stacy shares her heart and is very open with her readers. The questions at the end of each lesson are thought-provoking and open the doors for heart-to-heart discussions between a mom and her daughters.
Here is an example of one of the included prayers:
Dear Lord, help me to notice
areas of my life that need
changing. Keep me from being
prideful, selfish, or arrogant. Make my
heart chaste, Lord; and, help to ensure
that my "outside" lines up with my
"inside." Help me to present myself to
others in a way that points to you, and
Reading this book with my daughters touches my heart. It reminds me what it feels like to be a young lady, trying to find her way. And it helps me illustrate to my daughters the importance of living a pure life, holy and acceptable unto God. My daughters are enjoying the stories and asking lots of questions. It is reminding me of the importance of searching my own heart on a daily basis. It truly is all about our hearts, having hearts turned towards God.
The recommended age is 8-15, but I suggest using your own discernment as some topics may be a little mature, although all topics are covered in good taste.
If all our daughters could learn lessons such as this at a young age, what a difference it would make. Again, it is all about the heart, purity of heart.
"If a young woman is truly acting in love toward her brother (yes, the guys in your life are your brothers), she won't risk his heart or his purity by seeking to be pursued in a way that is outside of God's will. She won't play with his emotions or (by her actions, words, or dress) tempt him to think of her in an inappropriate way simply to satisfy some sort of fleshly desire inside herself.
"
What a treasure this book is. How thrilled I am to have found it. How excited I am to continue on this journey with my precious daughters.

Disclaimer: I received
this product free of charge, as part of the Schoolhouse Review Crew. The above is just my opinion. Please remember that opinions may, and do, vary.