Family Time Fitness
presents
Fitness 4 Homeschool - Core 1
Physical Education Curriculum
K-8 Curriculum
New Low Price of $57
CALL TO ORDER (979) 209-0778




What exactly is Fitness 4 Homeschool - Core 1? I'll tell you in their words.
"The Fitness 4 Homeschool Curriculum allows homeschool parents to teach physical education without previous knowledge of physical education and athletic development. Our program, designed by experts in fitness training, nutrition and body movement, is designed to suit every age and ability level while affordably fitting into your budget. Our program combines flexibility and fun with a comprehensive curriculum to give your children a foundation for strong bodies and minds. Best of all, you get all this for only $57 dollars for all your children!"
Would you like to try, before you buy? Here is the link to a FREE 2-day trial.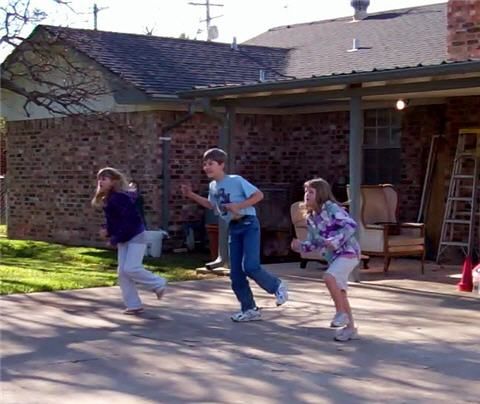 Our Thoughts:
I have thought many times about adding more exercise into our lives. I have even thought about adding something regular into our school schedule. We have tried a few things here and there, some working better than others. But as always, it was hard to remember and to be consistent.
Summers have ample opportunities to get out and get active. But winters in New York are more complicated. We don't ski, so the long cold snowy winters mean many more hours indoors. It is more challenging to stay active and to not gain weight.
I volunteered for this program, thinking it would probably be more a listing of exercise ideas. An assortment of activities to choose from.
I have used resources in the past, which offered lists of activity ideas. The ideas were nice. But it was up to me to decide on a routine, and to also try to figure out exactly what the activity should look like based on the description. Another problem is that sometimes the activities require large groups, which doesn't work well with just 3 children.
That is where
Fitness 4 Homeschool
differs. This isn't just a book of activity ideas. This is an actual Fitness Curriculum, specifically designed for families. It has daily lesson plans, including warm-ups, exercise, cool-downs, and an outside activity. And no more guess work; each activity has a link to a video showing exactly how the exercise should be performed. All the guess work has been taken out of it for you.
Is the program thorough? Yes, it is well balanced and includes warm-ups and cool-downs, plus indoor and outdoor activities.
Is the program challenging? Yes, it has definitely challenged me. I knew I was not in the best of shape, not getting much regular exercise. But when the warm-ups took a toll on me, before I even began the regular exercises I knew I was in trouble.
I think the daily routine is just the right length. Not so short that I feel like it was a waste of time. Not so long that I am too exhausted to finish.
Did we like it? Depends on who you ask. (Isn't that always the way it is?) I enjoyed it. I felt like I was being productive and getting in shape. It was a welcome break in the middle of the school day to renew my energy and clear my mind. Speaking of that, check out the image below. My 13 year old felt it was silly. She would rather "freestyle" it and have a dance party, than do a structured exercise time. What can I say? She is a free spirit. My 10 year old enjoyed it and participated willingly. She said it made her feel "stretch-able". My 3 year old looked forward to it and as soon as I would say it was "exercise time", she would come running in the room very excited, doing all the activities to the best of her ability. So in our home, it had a 75% approval rating.
-
Remember: You can try out the program for free. Here is the link to a FREE 2-day trial.
Disclaimer: I received
this product free of charge, as part of the Schoolhouse Review Crew. The above is just my opinion. Please remember that opinions may, and do, vary.