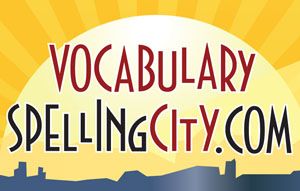 Vocabulary Spelling City
www.SpellingCity.com
K-12th grade
$29.99/Year for up to 5 children
(Some free services are also available)
Here is a comparison of the FREE and PREMIUM services
Helpful
training videos
to get you started.
Bunches and bunches of
learning games
to choose from.

Their mission:
"
Efficient game-based study of literacy skills using any word list."

About Vocabulary Spelling City: (
from the website
)
"VocabularySpellingCity
is a free, interactive educational website that enables students of all ages and learning differences to practice their spelling and vocabulary words at home or at school while playing a variety of exciting learning games, all of which are compatible with interactive whiteboards and most of which are also printable!"
This video shows you about getting started with the Premium Membership.
What we thought about it:
At the end of this past school year, I told my husband that I wanted to find some sort of online game or app that would allow the girls to practice vocabulary. Some sort of way to drill and review. So when this website came up for review, I thought to myself (and said to my husband), "This is exactly the sort of thing I have been looking for. This is what we need." So I expressed my interest in reviewing this website and thankfully, was chosen to give it a try. I chose to use it with my 10 year old daughter.
I wanted my daughters to get more practice both with vocabulary and with spelling. This site does both. Based either from a list I choose, or a list I MAKE, my daughter can use that list to do lots of thing. She can practice spelling the words, defining the definition of the words, playing games to speed recognition. You can practice with flash cards and even have your child write well-structured sentences using the given words, that you can later score and comment on.

Several printable worksheets are available for your use, including handwriting practice sheets. You can choose print or cursive...and you can even choose sign language! How neat is that?
The section to practice writing is cute. Your student will write a sentence using the selected word. Then they can listen to the sentence being read back to them. She can pick from 3 English voices. But she can also choose to listen in French or Spanish. My daughter thought this was great fun. She liked writing a sentence and then hearing it instantly translated into a foreign language. It is useful for a student to hear someone else read back their work; it will help your child self-edit his work.
You can also assign paragraph writing exercises, even specifying what type, such as a poem. Another neat feature...you can pre-select helpful insturctional videos for your child to watch during the writing exercises, such as "Topic Sentence" and "Supporting Details".
The provided word lists are really neat. It isn't just random vocabulary word lists. You can search by category and grade. For example, I can select the following...
Science
, then
High School Grades
, then
Ecology
, then
Climate/Weather
, then I receive my prepared word list below. Pretty neat, huh?
______________________________________________________
Lots of games are available. A really neat one lets you choose a classic novel, and then fill in the missing words in sentences.
______________________________________________________
Teacher resources
abound on the site. Printables, Videos, Articles, Word Lists.
______________________________________________________
The customizable teacher/parent section is a nice feature. Here you can set up new students, assign lessons to one or multiple children, view progress and scores, comment on writing practice, etc.
______________________________________________________
I am so thankful we learned of this site. It is exactly what I was looking and hoping for. VSC suggests that just 10 minutes a day can improve grades. I am looking forward to my 13 and 10 year old daughters continuing to use this program in the coming school year. In my opinion, $29.99 for up to 5 children is a great bargain. One can easily spend that much on one restaurant visit.
__________________________________________________________
Disclaimer: I received
this product free of charge, as part of the TOS Homeschool Crew. The above is just my opinion. Please remember that opinions may, and do, vary.