Rainbow Sentences App - A Review
$7.99 on the Itunes Store
Geared towards elementary ages
Tutorial of Rainbow Sentences
Other apps available from Mobile Education Store for the
Ipad.
Also for the
Iphone.
These apps were designed with special-needs children in mind. Read about their story
here.
Brief description from the site:
Rainbow Sentences is designed to help students improve their ability to construct grammatically correct sentences by using color coded visual cues. The who, what, where, and why parts of sentences are color coded to help students recognize and understand how combinations of these parts create basic sentence structure.
Our thoughts:
I am a big fan of using apps as part of our education. I have recently discovered just how many educational apps are available and just how helpful they can be.
I used this app with both my 3 and 10 year old daughters. For my 3 year old, I used it on the easiest settings. For my 10 year old, we set it to the most difficult settings.
My 3 year old quickly caught on to the color coding. Putting the blue subject on the blue line; putting the verb phrase on the matching color line, etc. My 3yo liked the cute picture that would accompany each sentence. Very cute little pictures of things young children find interesting - dogs, babies, toys, etc. She was extremely proud of herself each time she got her sentence correct. And she enjoyed watching her puzzle fill up with pieces, each time she set-up enough sentences correctly.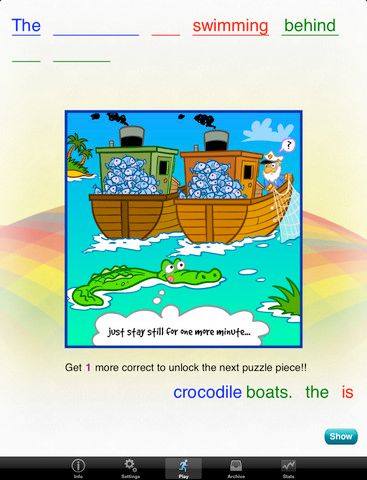 As I mentioned, we set my 10 year old's account to the most difficult level. This was the only way that it was at all challenging for her. So I would recommend this app to younger elementary students, maybe Kindergarten through 3rd grade. Instead of having color-coded phrases, she had a set of individual words (with no colors). She had to take the set of words and put them in correct order to make sense of the sentence, based on the picture. Most of the time, she flew through it with ease, quickly figuring out how to make sense of the sentence, using the picture as a guide. There were a few times where she got a little perplexed and had to think it over for a bit before correcting her sentence.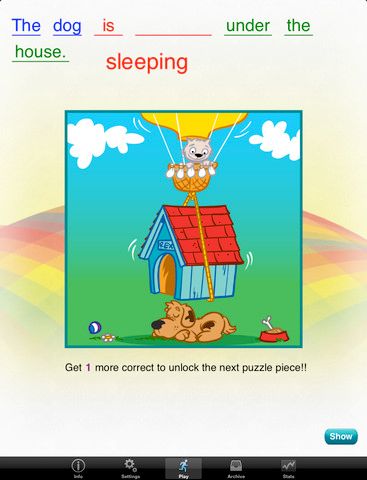 The app is geared to several learning styles. It is visual with the colorful images and color coded sentences parts. It is auditory with the option to record yourself reading the sentence and playing it back. It is tactile, using the Ipad. It is rewarding, earning puzzle pieces as you go along.
The app is colorful, cute, and easy to navigate. I appreciate that it allows the parent so many options to customize the settings, making it usable for a wider age span. Again, though, I think it would be best fit for about Kindergarten to 3rd grade. After that it will likely be too easy, unless the child has learning disabilities. In that case, this could be a great asset even into the late elementary grades.

Read more Crew Reviews here!
Disclaimer: I received this product free of charge to review, as part of the TOS Homeschool Crew. The above is just my opinion. Please remember that opinions may, and do, vary.