In Nature, In Scripture, In Living
2 years (8 issues) - $37.95
3 years (12 issues) - $53.95
For all ages, either as independent reading or as a family.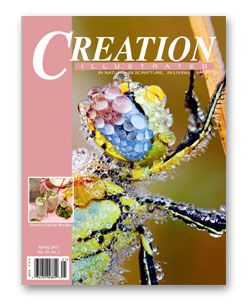 Would you like a free issue? Check out this link (
http://www.creationillustrated.com/TOS
) and read about their offer. If you prefer to pay upfront, you will save $5 off of your subscription.
A little about the publishers:
From their site -
Creation Illustrated is published quarterly (beginning in Fall 1993) as a private, nonprofit, non-denominationally owned ministry dedicated to the eternal impact of sharing Biblical truth through the blessings of God's creation.
The editors and publishers are a Christian couple, Tom and Jennifer Ish, who homeschooled their daughter, Melissa, and have dedicated their lives to serving God by providing positive choices in reading material for the whole family.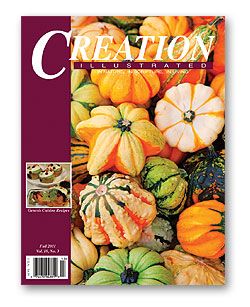 Publisher's Mission Statement:
Our purpose is to share the wonders of God's creation. By revealing fresh insights of His infinite wisdom, gentle touch, undeniable justice, redeeming love, and flawless design, pure truth shall bring renewed peace. Each part of this publication is offered as a reprieve from the daily rigors of life so that all can look to the future with unbridled gratitude and hope.
The magazine is divided into 3 sections: nature, scripture, and living.
In regards to the nature section, Creation Illustrated has been called the "Christian National Geographic". It is no wonder why. Each issue is packed with glossy, full-color photographs of nature. I was fascinated with all the up close stunning photos of a variety of hummingbirds in the Spring 2012 issue. I think hummingbirds are absolutely fascinating. Did you know that they are the only birds that can fly backwards?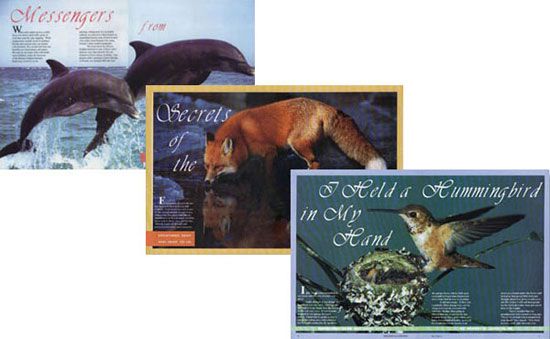 In addition to the beautiful photography, the articles are both interesting and educational. I enjoyed the personal tone of the articles. It doesn't read like a text-book. It has the same feel as living-books. The author's love of the topic and his/her first-hand experiences come through and add to the enjoyment of the articles. After reading about Yellowstone and its geysers, my children now want to go visit there for themselves.
As I mentioned, there is also a section about Scripture. For example, the Winter 2012 issue has an article about stewardship, with suggestions of how to be better stewards of God's Creation and of the resources He has blessed us with.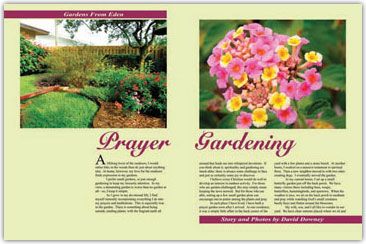 The final section is about living, things such as taking time to appreciate God's Creation and to find stillness among all the busyness. You can also find some great recipes and ads for companies that promote a healthy lifestyle.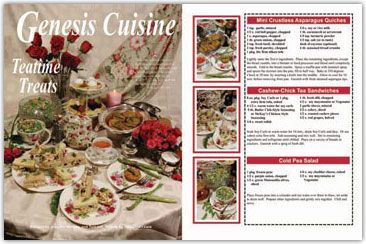 Of note, is a children's story which makes a great read-aloud and a photo contest for ages 5 - 15, with cash awards.
Homeschoolers will appreciate the included Instructional Guide. It is designed to "help students of all ages integrate and embrace the practical spiritual lessons available through the study of God's handiwork. As students personally apply the moral and spiritual enrichment found in nature, they will recognize the character and love of God." (quote from the magazine) The guide includes comprehension questions, Scripture references, and "make you think" questions.
Speaking of "make you think", I appreciate that some of the articles include moral lessons. The Winter 2012 issue has an article about the hummingbird moth. When seeing it, many people think that they are seeing a hummingbird, when actually, they are seeing a moth. It just happens to be a moth who looks a WHOLE LOT like a hummingbird. The lesson in this is - How can you tell the difference between the impostor moth and the real hummingbird? The answer? By knowing the real thing very well. The same applies to God. To quote a brief segment of the article on page 29 - "
How can we determine whether Satan is deceiving us or whether God is speaking to us? There is only one way - the same way we can tell whether we are looking at a real hummingbird or a hummingbird moth. We need to know what a true hummingbird looks like, and then by comparing the questionable creature with the genuine, we will know if we are looking at the real bird. So it is with our spiritual life. We need to study the Bible so we can recognize the characteristics of God . . .
"
I like these magazines for several reasons.
1. The photography is beautiful.
2. The articles are written by authors who love the topic.
3. It makes learning about nature interesting and is more fun than reading a dry textbook.
4. It is written from a creation viewpoint, without evolution and old-world references being assumed.
5. It includes Scripture references and ties nature back into God and His Creation.
6. The publishers offer a photo contest for children.
7. The instructional guide is a much-appreciated bonus.
8. It offers practical ideas and suggestions of how to be better stewards of God's Creation.
9. It offers practical ideas and suggestions of how to also take better care of ourselves.

Disclaimer: I received this product free of charge to review, as part of the TOS Homeschool Crew. The above is just my opinion. Please remember that opinions may, and do, vary.